4 more weeks... the countdown is on! And so is birthday party prep. It's all things mermaid around here and I love it! It helps makes the sting of E turning one not hurt as much... because you can't be sad when there's a fun, over-the-top party to throw!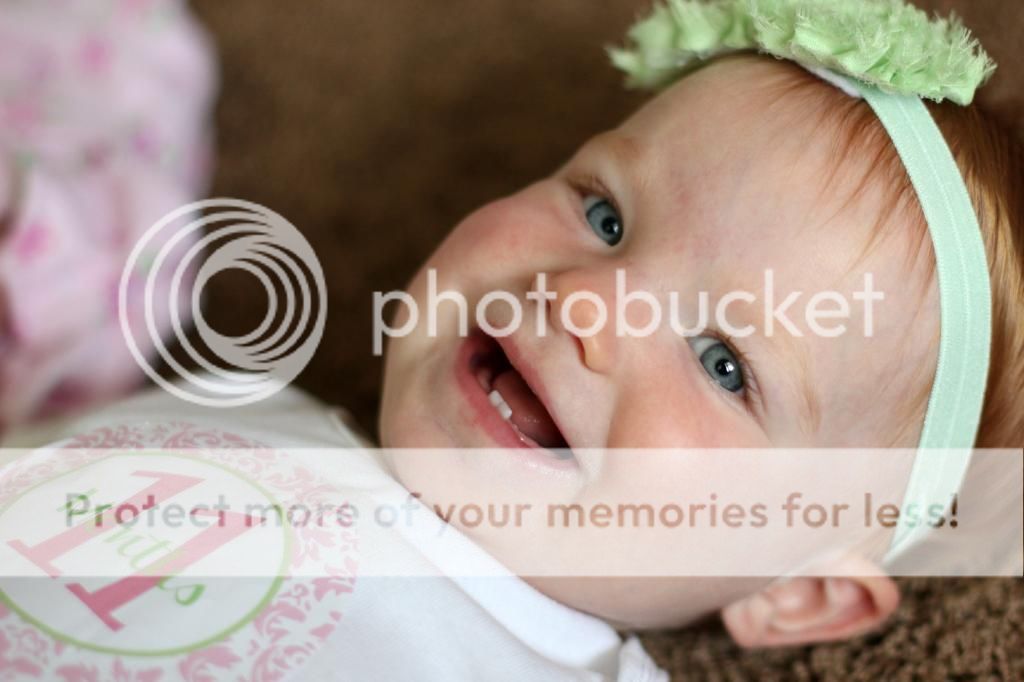 To My Sweet Emmy Grace,
I didn't think I could love you any more than the day you were born, but each morning that I go into your room and see you standing in your crib, I love you more than the morning before. The minute you see mommy or brother you break into a huge smile and start jumping up and down - ready for the day!
You just recently started saying, "hi" in the most adorable voice ever. It's a soft, high-pitched, "hi" and I've been trying so hard to video you when you do it so I won't ever forget it. You can also say, "mama," "dada," "na," and "ball." Luke is a hard one so I've been trying to teach you brother or "bubba."
You can clap and wave with ease and you love to shake your head no and wave your hands in front of you to tell me "all done." And if I don't get the memo the first time, then you start throwing your food on the floor! When you wave it's with both hands and with wild abandon - like you do most things right now.
You're working on standing all by yourself and I've seen you do it several times for a few seconds. This has also resulted in your first shiner/bruise. If you look close you can see it in your pictures this month (right cheek). The family room recliner and your face got into a little fight a few days ago. Sadly, I think the chair won.
As of a week ago, we are all done with bottles. You drink your formula straight from sippys 4 times a day. And by this time next month, you will be drinking whole milk! It's hard to believe I probably bought formula for the last time yesterday. You love breakfast and lunch and dinner is still hit or miss. You eat pretty much everything (except avocado) but your favorites are puffs, waffles, pasta (specifically macaroni and cheese), meatloaf, and bread. Carbs and cheese are your jam!
You absolutely LOVE the pool. Well, any water for that matter. We had you in the pool last weekend and you were a kicking, splashing machine! Your hair was soaking wet from all the splashing you did. You will bend over in the bath and put your full face in the water... It's crazy! I think if I put you in the pool and let you go, you'd try and swim. (But I'm not taking any chances.)
You love to read books. You will pull all the books off the shelf in the family room and sit and page through your favorite ones. It's one of your favorite activities to do in the morning after you've had breakfast. You also love playing peek-a-boo and patty cake. Anytime I sit down next to you, you climb over to me and grab my hands, clapping them together which means play patty cake mom!
I almost forgot - teeth! Your two front top teeth are through the gums and you can now see them when you smile and laugh. It's adorable but it also makes you look older and mommy doesn't like that! You've been sleeping great since your teeth came in and we were able to stop your reflux medicine completely this last week.
Your beautiful red hair and bright blue eyes are conversation starters everywhere we go. Emmy Grace you are a true joy to be around and although I'm sad that you will be one next month, I can't wait to celebrate the precious gift God gave us one year ago! Daddy and I love you so very, very much!
Love,
Mommy