So we took an unexpected hiatus for the month of February...but for good reason. In fact, this reason is my first random thing of today.
1. So you all know I'm pregnant and due September 13th. Well, what you don't know is that
Nicole
is also pregnant and due September 12th. Is that crazy or what?!?! We are total due date buddies and we commiserate at least once a day about how sick these babies are making us!
2. We had the best, most exhausting family day yesterday. Chris has been bugging me to go to Disneyland since we got our passes renewed at Christmas. Considering I've been sick since January 2nd, it's been a little hard. But we finally made the trek yesterday and I'm so glad we did. We were at the park from 7:30-1:30 and I came home and crashed hard. We all did. And after finally waking up around 4 I kind of felt like I had been hit by a bus.
3. To make the trip extra special, we did the "Minnie and Friends Character" breakfast inside the park. Luke wasn't too sure at first but definitely warmed up to all the characters by the time our meal was over. He loved seeing Captain Hook, Tigger, Chip (or was it Dale?), and Minnie herself. Or as Luke likes to call her and Mickey, "Mouse!" Seriously he just says "mouse." It's too cute.
4. Can we talk about the food for a second? Maybe it's because I actually had an appetite yesterday for the first time since 2012, but the food was amazing. Like best buffet breakfast I've ever had. I seriously couldn't get enough. Eggs, french toast, waffles, hash browns, my mouth is watering just thinking about it all and I kind of can't wait to go back!
5. Even though I was exhausted I am SO thankful we were able to spend time together as a family of 3. I know September is a long way off but I know it will be here before we know it and our family of 3 will forever be a family of 4. I'm going to try my hardest to do fun things as "3" because we will never have this time again. I have a feeling the summer will be packed with fun stuff - beach trips, our first and last family of 3 vacation, a trip to the circus, etc. I want to soak up as much time as possible before life changes forever...in a good way of course! But changes nonetheless...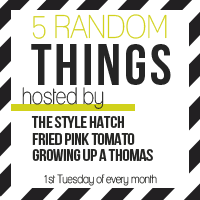 Ok, now it's your turn! Just remember a few rules:
1. Please follow all your hosts and co-hosts.
Nicole
(Host),
Jaime
(Co-Host), and Myself
2. Link up your 5 random things post, not your blog url.
3. Make sure to link back to this post - feel free to grab the button above!
4. I know it's hard for us to visit everyone who links up, so if you can, visit the blog who posted right before you and leave some love! Maybe even leave a random fact about yourself!